GARDEN SOIL DLEIVERY IN MISSISSAUGA, BRAMPTON, ETOBICOKE, OAKVILLE & SURROUNDING AREAS OF GTA
Looking for black garden soil delivery near you in Mississauga, Brampton, Etobicoke, and Oakville?
Well look no further as Less Mess™ is right in the heart of GTA and serving quick and convenient soil delivery in all the surrounding areas including Toronto, Hamilton, and Markham. We have all the landscaping supplies you need, and we offer same week bulk soil delivery in Mississauga, Brampton, Etobicoke, Oakville, and surrounding areas.
A Peek into Less Mess™ Enviro Bag
Since 2010, Less Mess™ has made it easier to obtain the crucial gardening elements including soil, mulch, compost, sand, and stone accessible through our locally sourced quality gardening products. Over the years we have improved our delivery experience by maximizing our logistical effectiveness. We know thriving, living soil with high organic matter is a vital component for an exceptional lawn or garden. Premium soil blends are a complex symbiotic system of organic matter, minerals, gases, liquids and living organisms that together support life. Our garden bag delivery makes soil and mulch delivered to you safe and dry, so you have more time to choose what kind of flowers, perennials, shrubs, and vegetables to plant.
While most garden centers may be running out of soil and mulch this season, Less Mess™ most certainly is not. We have partners and sources to provide you the highest quality soil and mulch no matter the time of year and regardless of industry shortages. This allows us to provide you, our customers, with the best locally-sourced soil and mulch in Mississauga, Brampton, Etobicoke, Oakville, and surrounding areas. By shopping local, you can reduce your footprint and purchase a fresh soil product that's made specifically to thrive in your region.
Why Less Mess™?
Soil Delivery in Mississauga, Brampton, Etobicoke, and Oakville
Less Mess™ soil delivery solution makes getting quality products for your garden or landscaping project quick and easy. Whether you need topsoil, garden soil, lawn soil, soil for sod, triple mix soil, garden dirt, potting soil, top dressing lawn soil, soil for vegetable garden, special blends, or mixes, our no mess soil delivery solution is the key for a great lawn and garden. For 12 years, Less Mess™ has delivered outdoor landscaping and gardening supplies right to your door. Our expert soil blends can be used to overseed a new lawn, seed over dead grass, lawn leveling, build natural grading and growing healthier plants, flowers, shrubs, and veggies. Our bagged garden soil is also perfect for container gardening and creating a rain garden. Its universal nature makes it great for lots of different applications.
Hassle-Free Soil Delivery in 5 Easy Steps
Did you know ordering from Less Mess means hassle-free delivery in 5 easy steps? That's right, we take note of your delivery instructions and are constantly upgrading the Less Mess experience to provide you with premium gardening products. Our drivers are specially trained for this process so we can offer you a seamless Less Mess™ experience. We take pride in our soil delivery service across Canada.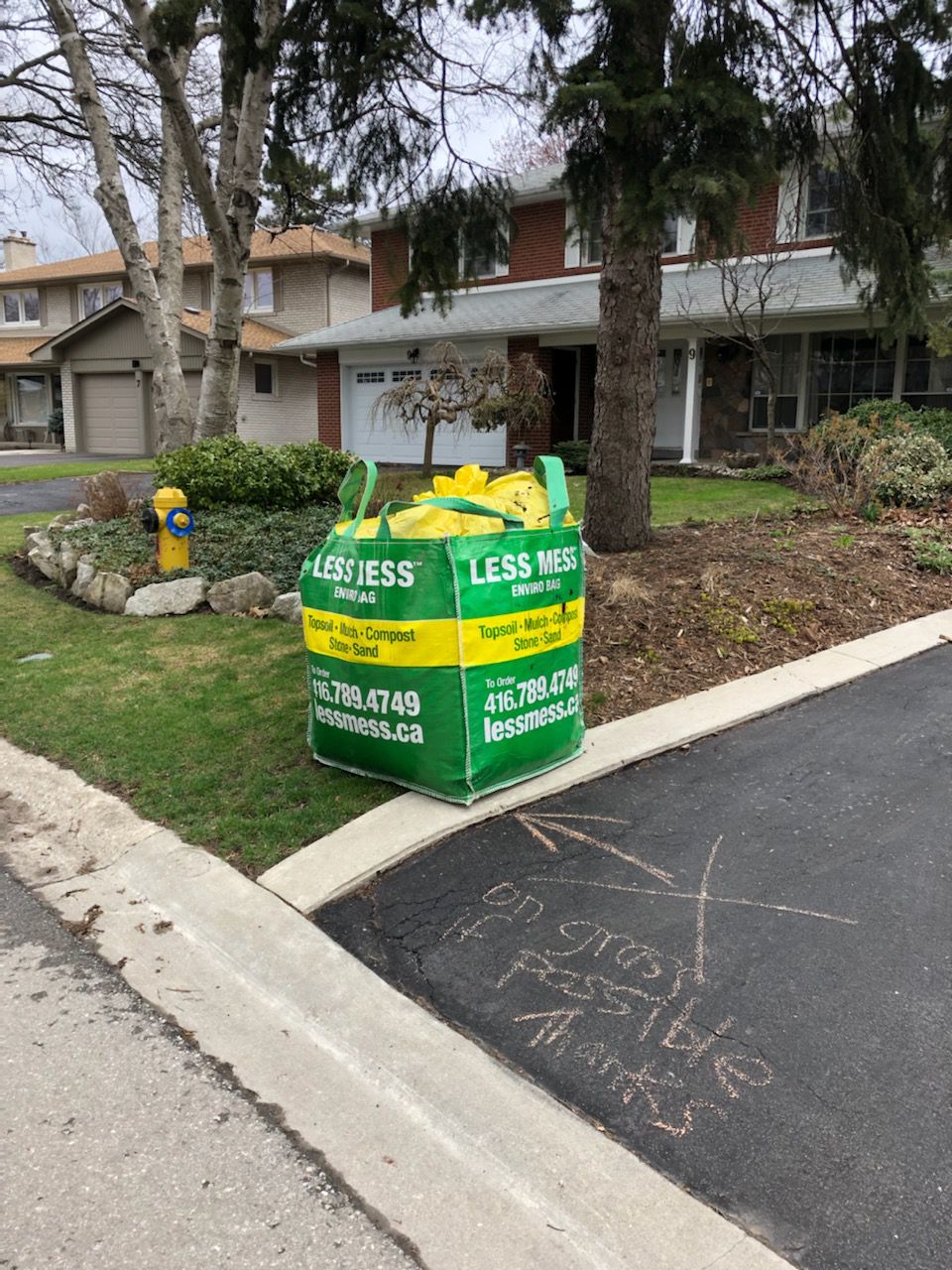 No More Messy Driveways
Why have your soil delivery shipment dumped on your front lawn or driveway, leaving a mess that you have to clean up? Less Mess is delivered in 1 cubic yard resealable bag so you can use only as much soil as you need. Our resealable enviro bag keeps your gardening materials dry and uncontaminated. Check out The Less Mess™ Advantage and determine why you should use Less Mess™ for all your gardening needs.
Free Home Delivery
Less Mess™ offers free delivery on all gardening materials in all the areas including Mississauga, Brampton, Etobicoke, Oakville, and surrounding areas of GTA. Even with the unstable gas prices that we are experiencing this year, we have gone above and beyond to provide you, our customers with the most affordable and high-quality soil and mulch. We deliver topsoil, mulch, stone and gravel, compost, and sand right to your door for free, so you can spend time nourishing your garden or lawn.
No Mess and No Lugging
Our no mess soil delivery makes it easy for you to use soil over a period of time. You don't need to worry about the product as our enviro bag can be sealed again which shelters the product and maintains optimum quality. A cubic yard of topsoil is heavy weighing around 768.83 kg and we save you from all the mess including making multiple trips, lugging heavy bags yourself, and cleaning up your driveway after you have used your bulk soil.
For more information on our quick and convenient soil delivery solution we encourage you to check out our short video on soil delivery.
How Should I Order Soil, Mulch, and Compost?
We offer a wide variety of soil blends, mulches, compost, stone and gravel and sand. To place an order, visit our products page or call us at 1 (833) 955-9595 and our customer success team will help you choose and schedule your desired landscaping products for delivery. You won't find premium black soil for sale that's easier to order than ours!
How Much Soil Do I Need?
Not sure about how much is 1 cubic yard of topsoil? Are you wondering how much a yard of topsoil and mulch weighs? Check out our volume calculator and determine the exact quantity of topsoil you will need to create new gardens, revitalize old gardens, fill up a raised bed or top dress your lawn. For more information on soil and mulch cubic yard quantities visit our blog which explains all our product quantities in detail.